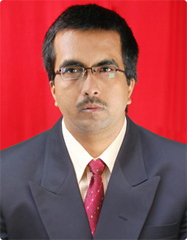 SWANAND ARUNRAJ KULKARNI
B.SC(PHY) , MBA (FIN), M.JOUR , DIT
SK INVESTMENTS MIRAJ was founded by Shri. Arunraj M Kulkarni & Mrs. Shagun A. Kulkarni in 1981 with large experience in retailing & fast economics. Now from 2004 after completion of Post Graduation in Finance Management MBA (Fin) his Son Swanand has join him. His altrasonic view and efforts take a new archieve to get a sucess in investment consulting.
SK INVESTMENTS MIRAJ believe that results can only happen through simple, powerful solutions. Simplicity, persistence and attention to detail describe the way we work and communicate, and this is what you see when we deliver.
Our mission is to be comfortably useful. This means that any client, investor or partner will get a peace of mind that he is understood and serviced in a convenient manner, without unnecessary words or slogans. SKI quality of service is continuously improved through our own actions and control.
At SK INVESTMENTS MIRAJ, we adopt a structured and disciplined approach and provide you secure and safe mutual fund investment platform.
At SK INVESTMENTS MIRAJ, we offer you multiple distribution services like Mutual funds, Insurance, Fixed Deposit etc. a complete range of services that complement our distribution services. The range includes a combination of best of breed proprietary and non-proprietary (third party) products. The approach is to provide you quick transaction services suitable to your profile and risk appetite .
Work with us to develop a savings cum investment habit and a protection plan that provides you with the best chance to reach your investment targets according to your specific needs and comfort levels. Our incidental suggestion helps you to choose the best and more suitable scheme for you under the SEBI defined riskometer.
Explore the comprehensive array of our investment services, programs, and products.